Popular Wedding Photographers in Brisbane – Wedding Diaries
So apparently, I've made the cut! Woo hoo! A while ago I received an email from Wedding Diaries telling me I'd made it onto their list of "Most Popular Wedding Photographers in Brisbane".  Admittedly, I was shocked! I hadn't entered a competition or participated in any surveys! And if you do a Google search, there are literally hundreds of wedding photographers in Brisbane. So I was a bit curious (and a tad excited) to find out just how I'd made it onto this exclusive list of popular wedding photographers in Brisbane.
And as it turns out, Wedding Diaries conducted their own survey of brides and grooms. And guess who came up on their list of most popular wedding photographers in Brisbane?  ME! Admittedly, I am a little chuffed to make it on the list with a bunch of other amazingly talented Brisbane photographers. If you want to see this list, check it out here:
Top 10 Popular Wedding Photographers in Brisbane – Courier Mail
And guess what? I made it onto The Courier Mail's list as one of 'Brisbane's Top 10 Wedding Photographers'.  How cool is that? Thanks to all the fabulous couples who gave me a vote. You guys ROCK!  There's also a bunch of other awesome wedding photographers on the list, so if you want to check them out, read the entire list here.
The Wedding Diaries For Wedding Planning
Okay, so now you've had a read through the lists, check out the Wedding Diaries. It's actually a pretty helpful site to go to if you're planning a wedding. It gives advice on everything to do with planning your wedding and includes reviews and feedback on some of the best wedding celebrants, florists, make-up artists, cake makers and vendors in the wedding industry. It also has a tonne of helpful wedding tips.
Wedding Diaries also showcases some of the best wedding venues Brisbane has to offer. In the 20+ years I've been a wedding photographer, I've photographed weddings at nearly every venue on their list! And it's a long list. So if you haven't booked your wedding venue yet, check out their list of favourites here.
My Favourite Venues
And because I've worked in the wedding industry for quite a while now, I've photographed weddings at many popular wedding venues throughout Brisbane. So I've compiled a list of a few of my favourites. So, if you're looking for a venue for your wedding, check out my blog, Best Brisbane Wedding Venues – 15 of the Best Brisbane Wedding Venues for some useful tips on where to get married in Brisbane.
Weddings are my Jam!
I guess it's safe to say that weddings are my thing! For the past 20+ years I've been photographing couple's wedding days. And I mean, what's not to love? I get to spend the happiest day of people's lives with them. And while I've never actually counted them all up, I guesstimate that I've photographed over 600+  weddings. And that's HUGE!
So yeah, "Hi *waves hand* my name's Alison and I'm addicted to weddings".
My Favourite Vendors
And you'll no doubt be searching the internet for awesome wedding vendors to help make your day amazeballs too! Well, lucky for you I happen to know a whole bunch of them too.
I've worked with some of the best wedding celebrants in the wedding industry and they've shared some fabulous tips about creating a unique wedding service. For example, Jacinta from 'Just Hitched by Jacinta' gives this advice:
"From the outset stay true to yourself and your relationship. If you prefer a more traditional Brisbane wedding ceremony, then find vendors that fit the bill. If you prefer relaxed, fun and non-traditional then follow that path."
And Venita of Venita Manning Wedding Celebrant adds this excellent advice:
"Choose vendors that you really connect with and you trust with all the details. That way you can relax and enjoy the lead up and the actual day. Hire the best celebrant you can for your Brisbane wedding ceremony. This person is in charge of the start of your big day. The first big impression. Make sure they make it fun and enjoyable for you and your guests.
Experience Matters!
This advice seems very sound as the lovely Jen of Jennifer Cram Wedding Celebrant offers much the same.
"It is not enough to like you wedding vendors. After all, we all have that one friend who we love to bits but also know is hopeless in various practical ways. HINT: Each of your vendors needs to be highly skilled in their own area, flexible, and open to what you want for your wedding. And they also must be able to work as a part of the team while putting your needs and wants first."
Renee Wilkins has conducted over 1000 wedding ceremonies so she really knows her stuff! Renee also says that working with professional and experienced vendors can make a huge difference to how your wedding days runs.
"This is a very special day for the bride and groom and you want the day to go perfectly without any surprises, adding to what should be one of the best days of your life.
Because working with experienced wedding vendors will help ensure that your marriage ceremony goes very well and without any problems."
My Experience
Well, I have tonnes of it! It all started when I was 18 years old and I got a job at a photo lab. Remember those places? You'd drop your film in, get 2 for the price of 1 prints, pay a little extra for the 1 hour service? Yep, that's where I found my passion for photography. It was there I bought my first camera. A second-hand old Pentax K100 for $150. It was a great little camera and I still have it today, along with about 50 vintage cameras I am addicted to collecting.
It was such an experience learning on a film camera. Because you couldn't just fire off 50 shots like you can on a digital camera, and hope that one was exposed correctly. No, you actually had to know what you were doing! You had to measure the light, choose the correct film type, do exposure readings, it was fun! And then you'd wait with anticipation to see how your images had turned out. I even played around in a darkroom.
By the time I was 24, I realised I wanted to photograph weddings. So I tagged along with another wedding photographer and second-shot weddings with him. I soon fell in love with the excitement of weddings; spending the day with loved-up couples, documenting their day and capturing those special moments that no one else saw. Those first loving glances between a newly married couple, the tears from grandads, tender moments between grandmothers and granddaughters; the first time dad sees his little girl in her wedding dress. These moments are what wedding wedding photography is all about. And I admit it, I'm an addict.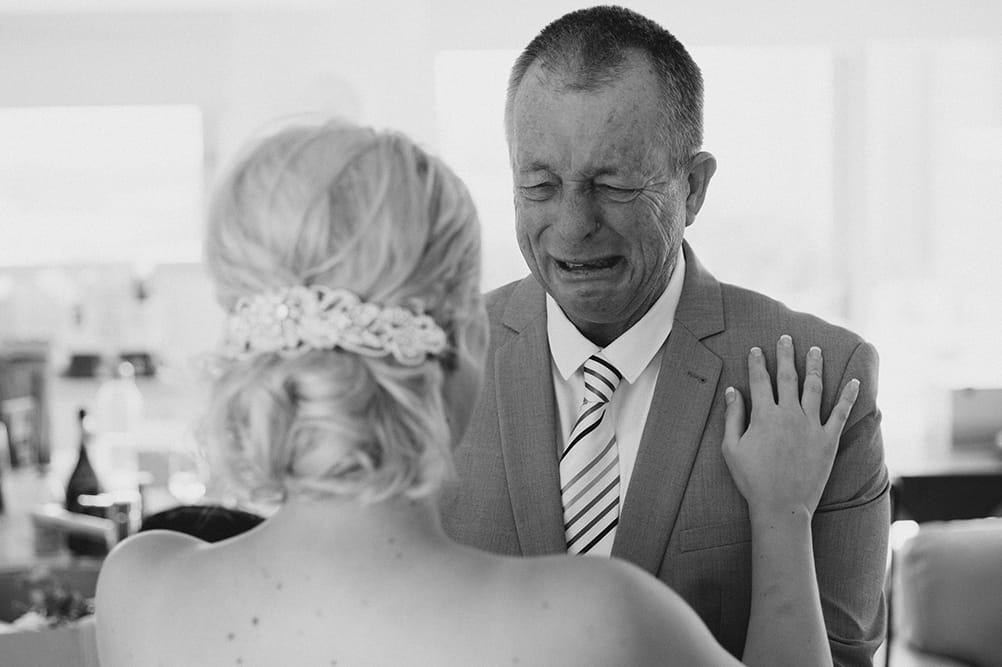 So if you're still looking for a wedding photographer who made two lists for the most popular wedding photographers in Brisbane, drop me a line here. If you still need convincing, check out some words from some of my happy couples:
Fabulous Reviews
Philip Wells: I highly recommend Alison to anyone looking for someone to photograph their wedding. Alison did an amazing job from the moment we contacted her, during our wedding day and in the editing of our photos. Her ability and many years of experience as a photographer was demonstrated by the fantastic moments that she captured on the day. Thanks Alison!
Rebecca Rabbit: Couldn't have asked for a better person to have covered my wedding day! I have the most amazing photos that I will cherish for the rest of my life! Couldn't fault her for anything even if I tried! Highly recommend.
Jordain Just: Having browsed through Alison's wedding photos on her website we were in awe, her photos were spectacular. Upon meeting Alison to discuss capturing our wedding day she was very polite, professional and accommodating. She ran us through all the Do's and Don'ts when it came to things like make up for the bride and the best time of day to have the wedding to avoid shadows.
We are amazed with the quality of the photos she has taken for us. And we couldn't recommend Alison Cooke more highly to anyone looking for a photographer to shoot their special day. She has taken photos of both of our children as newborns and our wedding. Her work is top notch!
More Kind Words…
Kathryn Bor: Wonderful photographer, used Alison's services for our engagement shoot and wedding in Brisbane. She is highly skilled and very professional. Very impressed with the final results and will continue to use her services over time. Highly recommended for anyone struggling to choose their photographer! Thanks Alison!
Clare Larkin: My husband and I didn't have a traditional wedding and we didn't want traditional photographs! What we really wanted were pictures of our family and friends enjoying the celebration and a few nice images of us and our dog Jasper!
Alison, thank you so much for listening, understanding and delivering exactly what we wanted. We will particularly cherish the group shot which you went to great lengths (and heights!) to get. We have been able to include a few special images for all our family and friends in their thank you cards and I just know they will love them!
Thanks for talking us into going to the park for our family picture! Although Jasper's puddle swims threw a spanner in the works we will never forget the laughs we had!
Dale Hansen: We looked around at a few photographers for our wedding before deciding on Alison. As I'm sure anyone who is planning can understand, the cost of holding a wedding is phenomenal, so it's refreshing when you can find someone as talented as Alison who doesn't charge you an arm and a leg. Alison's costs were reasonable, but we did not have to compromise on quality as the work she produced was brilliant! Which is what you want for your wedding day.
We wanted to capture as much of the wedding as possible, so we booked Alison for a full day, covering everything from the bride getting ready in the early afternoon, right through to the reception into the night. Alison maintained her professionalism the whole way through, even though she must have been very tired by the end! The resulting photographs were fantastic and with the amount of time Alison spent with us that day, there were loads of photos for us to view, which we then narrowed down to a selection to have printed as part of our package.
We now have framed photographs hanging on our wall with our marriage certificate so we can admire them every day. I'm very pleased we found Alison and you will be too if you choose to have her photograph your special day!
About Alison
Alison Cooke Photography is voted one of the top 10 popular wedding photographers in Brisbane. She is also an experienced portrait and newborn photographer and an award-winning member of the AIPP.  Alison has over 20 years' experience in the wedding, family and newborn portrait industry and is a writer, journalist and freelance public relations specialist. You can view more communications work here.