Brisbane Family Photographer
A few years ago, I photographed Kylie and Daniel's wedding. At the time they had a daughter, Ellie. However, since the wedding their family had grown. They now have another gorgeous daughter named Gracie. When Kylie contacted me she was looking for a Brisbane family photographer because it was important to her to capture this precious time in their family's life. Gracie was just 9 months old and not yet walking so Kylie wanted family photos before Gracie grew any bigger.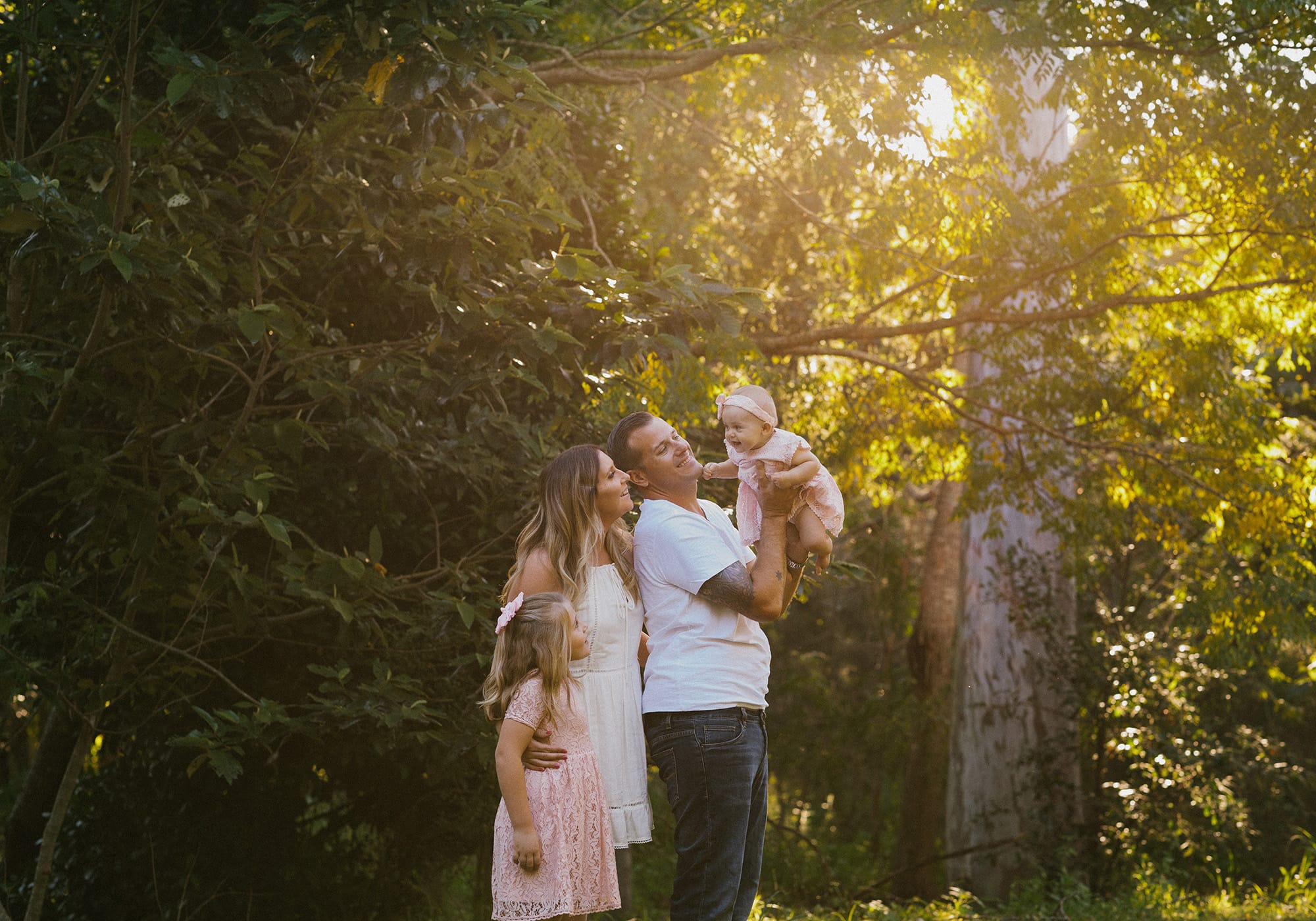 Because Time Is So Precious
We can all relate! We all know how fast time slips away. We're all busy working, parenting our children, cleaning the house and trying to find a small speck of time for ourselves, that having family photos is the last thing we feel like doing. But how many of you have old dog-eared family photo albums? Are these albums precious to you? I'm so grateful to my parents for all the blurry, faded photographs they took of me. I love to reminisce and relive my childhood with my parents and siblings. We look back and giggle at our poor fashion choices and bad hair. But modern photography is so different! We have the luxury of planning our photos. When you book me as your Brisbane family photographer I will give you all the tips on how to create family photos you will LOVE to look back on. Even in 20 years time.
Dressing for Your Family Photos
We've all looked back on our photos and wondered…"what the hell was I thinking wearing that!". Even our most favourite outfits go out of style eventually which is why neutral clothes are best! If you're investing in a Brisbane family photographer, why not splurge and invest in new outfits for the family? The clothes don't need to be expensive, just a few neutral pieces that will age well over the years. My tip for planning your wardrobe is, imagine you are dressing one person. You don't need to match each other but every piece of clothing should complement the other people in your photograph. Kylie and Dan took the opportunity to splurge on some new outfits for themselves and their girls. And don't they all look fabulous!
Brisbane Family Photographer – Do It For Your Kids
One of the most common reasons I hear from people about WHY they don't book family photographs is, they're not feeling good about themselves. They want to wait until they lose some weight, their hair is better or longer or nicer. But, the fact is, your partner or children don't care about these things! They don't even notice any of those things. What they do notice is you're there. They love your tickles, your laughter, they way you cut the crusts off their sandwiches and they way you give the BEST hugs in the entire universe. And they know that their parents are the best parents in the world. They know you love them and they love you.
So tell me…is that enough reason to invest in some family photography? Capture THOSE memories. Especially while the kids are young.
You Won't Regret It!
I promise you, you won't regret booking your Brisbane family photographer to capture these moments for you. You'll even have fun! And the best part is, these photos will hang on your wall and be constant reminders for you and your children, about what a special family you have. And unlike random canvases or pictures, you'll never tire of looking at these images. Because they're not just photographs of your favourite people in the entire world, they're memories. And you can't put a price on that.
About Alison
Alison Cooke Photography is a Brisbane wedding, family, portrait and newborn photographer. Alison is an award-winning member of the AIPP with over 20 years experience in the wedding industry.
If you're looking to book a Brisbane family photographer, please get in touch here. If you'd like to view more family photography, view the gallery here.
And if you'd still like to know more, you can always call for a chat on 0418 882 778.