Nadia & Jordain were married in an intimate ceremony late January. Thank you both for allowing me to share a  little of your story. Enjoy your sneak preview…
How long have you been together?
Nadia and I met as teenagers in 2007 during a gathering of mutual friends and family.
Why did you choose Alison Cooke Photography to photograph your wedding?
Having browsed through Alison's wedding photos on her website Nadia and I were in awe, her photos were spectacular. Upon meeting Alison to discuss capturing our wedding day she was very polite, professional and accommodating. She ran us through all of the Do's and Don'ts when it came to things like make up for the bride and the best time of day to have the wedding to avoid shadows.
Nadia and I are amazed at the quality of the few sneak preview photos we have received and are eager to see the rest. We couldn't recommend Alison Cooke more highly to anyone looking for a photographer to shoot their special day.
 Advice for future couples?
As many others have already said, on the big day do your best to relax.
Did you honeymoon, where and for how long?
We are yet to have our honey moon as we just bought our first home, though we do have plans on eventually going to Japan during cherry blossom season.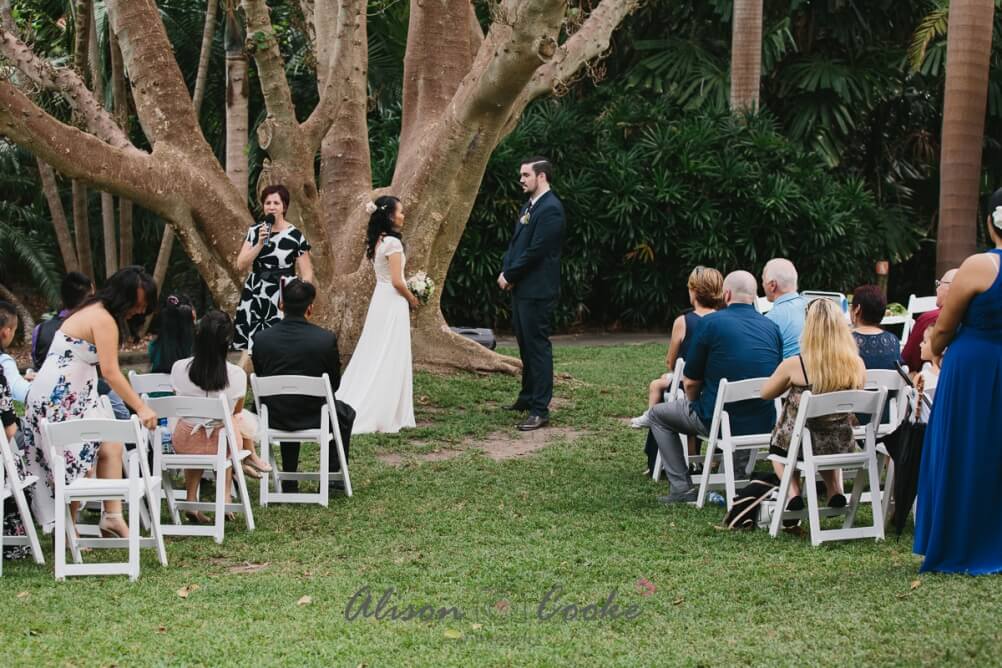 Vendor Shout-outs

Photographer: Me 🙂
Groom Suit:    Roger David
Brides Dress: Bohemian Brides

Ceremony Venue: Mt Cootha Botanical Gardens
Reception Venue: Runcorn Tavern – Star Room
Hair and Makeup:Bride's Sister (Julie Thaow)
Cake: Monadel-icious Cakes
Flowers:  Daisy's Florist Toowong
Transport: Grooms brother
Jeweller:Wallace Bishop
Celebrant: Renee Wilkins