The Best Brisbane Photography Locations
I've been a photographer for 20 years so I know some of the best Brisbane photography locations! I'm going to share some of my favourite inner-city Brisbane spots with you. Here we go!
Kangaroo Point Cliffs
Kangaroo Point Cliffs are a popular spot for photography. Unfortunately, it's also popular for picnics, rock-climbing or spending a leisurely afternoon. It's usually always busy so don't rely on getting a car park down the bottom. The street is very narrow and it's a nightmare to navigate out of, particularly when it's wedding season. I suggest parking on Thornton Street as it's near the ferry terminal and Riverlife (particularly handy if you're shooting a wedding at Riverlife). It's not too far to walk and you can check out all the photography locations on the way. Kangaroo point is renown for its rock-climbing, which means you have a funky backdrop for photos.
There's also lots of greenery to shoot through which means you'll have plenty of shady spots and you can get a little creative with the bushes 🙂
And as the sun sets, the city will come alive, making for a pretty impressive backdrop. Be sure to pack your tripod, extra batteries and remote triggers for some creative off-camera flash photography.
New Farm

Most people think of the Brisbane Powerhouse for photography. It is super-popular, especially during wedding season when you may find yourself queuing up like you're at the local deli. However, it is popular for a reason. The historic Powerhouse sets a funky backdrop for your wedding or portrait photography and if you pick the right time of day, the lighting is perfect.
And of course, right next door to the Powerhouse is New Farm park. Always a popular place for kids, families, picnics and weddings, it provides a nice touch of greenery to any wedding or family portrait.
Teneriffe
However, just down the road from the Powerhouse is one my favourite Brisbane photography locations. Ethel Street is a funky little street that has a variety of coloured brick buildings and a cool little courtyard with ivy covered walls. And because there is 'no parking' on one side, you have a whole side of the street for photos! It also has many different textures for backdrops which means you get a variety of images without having to travel too far at all! This street is literally my "go-to" place for inner Brisbane photography. And…it's almost always shady! WINNING!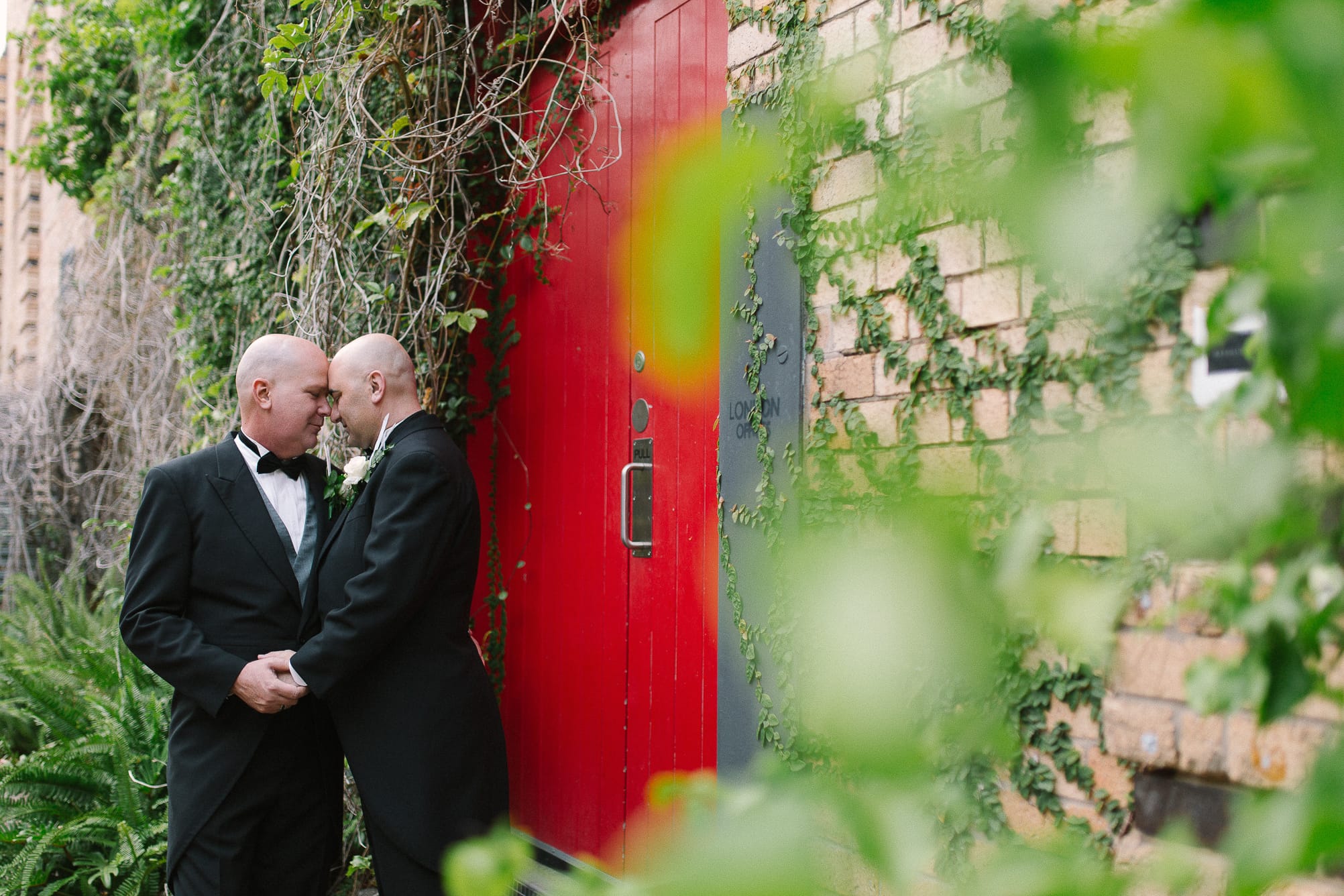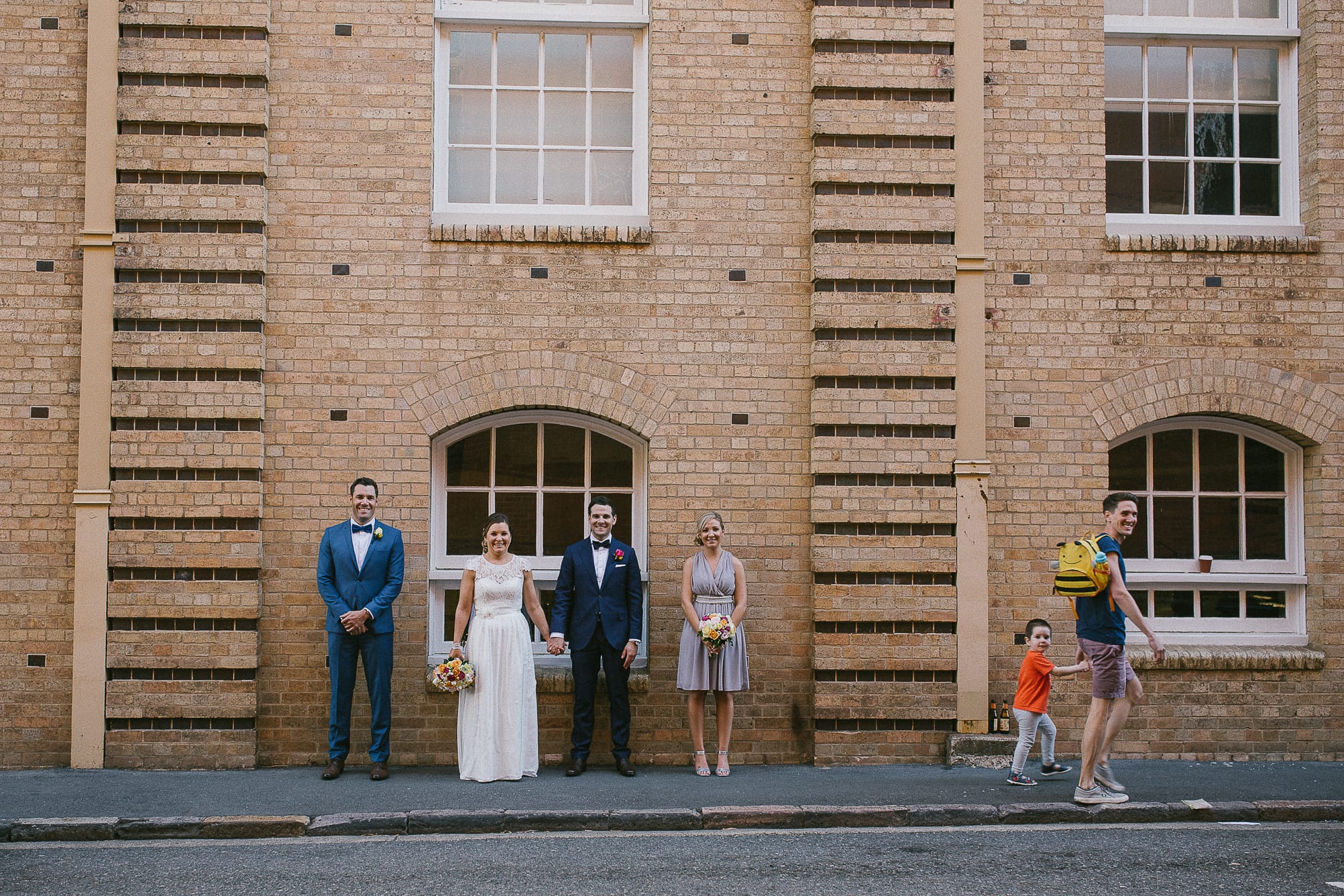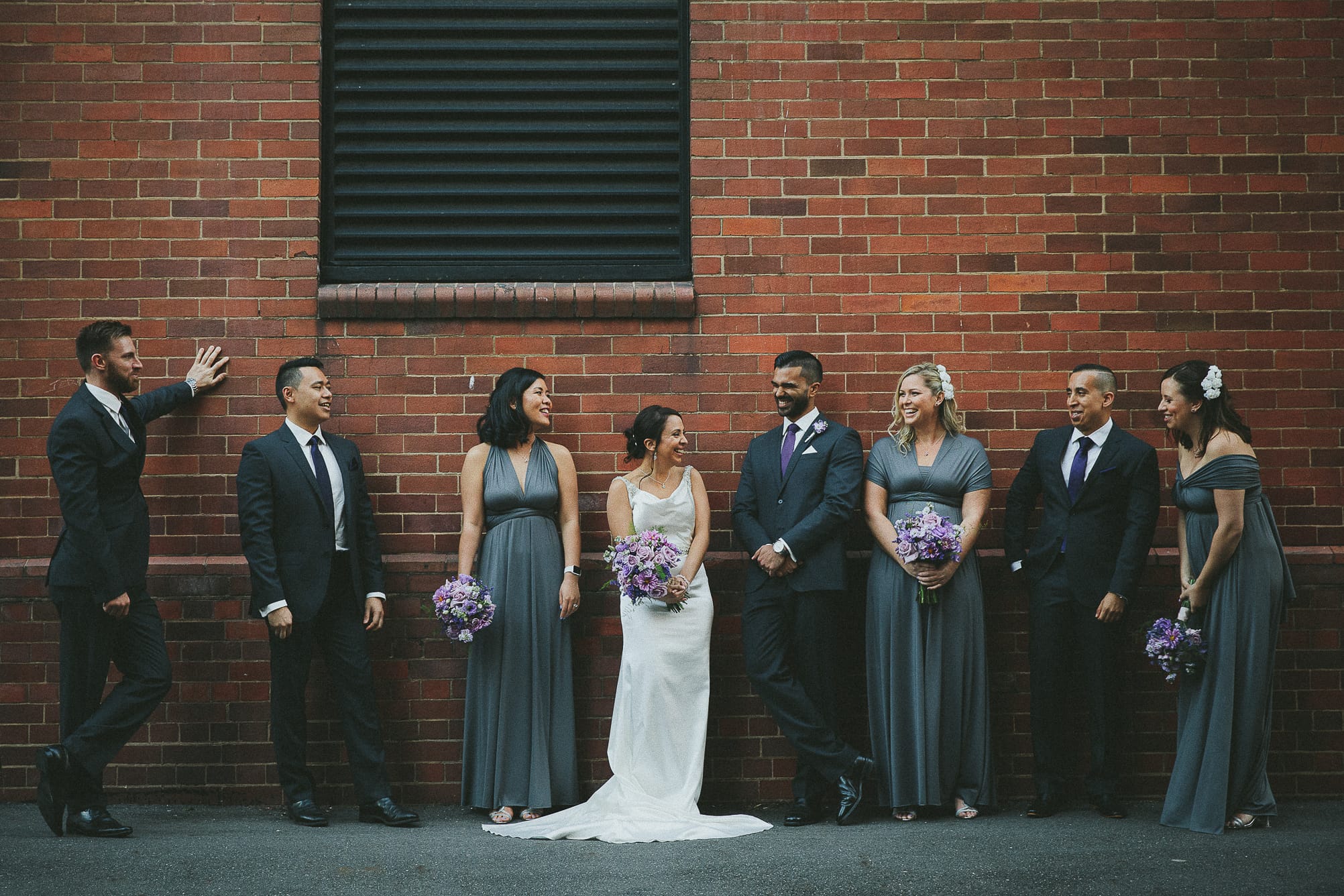 Brisbane Botanic Gardens
An obvious choice for photography is the Brisbane Botanic Gardens. It provides plenty of room, a variety of backdrops and lots of shade. Beware, also a very popular location for students and is busy during wedding season.
And at the entrance to the Botanic Gardens (on Alice Street near the Stamford Plaza) you can even manage to get some urban street photography. You must always be aware of the traffic and I only ever do this shot if requested by my couples. And I always have a spotter to keep an eye out for oncoming cars (see the bridesmaid in the background taking her bridesmaid duties very seriously).
About Me
I'm a Brisbane photographer with 20 years experience so I know the best Brisbane photography locations around! If you're looking for a professional photographer I'd love to hear from you! I have photographed over 600 weddings during my career in the wedding industry.  My style is relaxed, fun-loving, creative and professional. I am an award-winning member of the AIPP.  So if you're looking for a Brisbane photographer please give me a call on 0418 882 778 or get in touch here.
Check out more fabulous photographs here