How to Create a Beautiful Brisbane Wedding Ceremony
I've been a wedding photographer for just over 20 years. During that time, I've met hundreds of couples and wedding celebrants. So I thought I'd ask some of my favourite celebrants who are experts at creating a beautiful Brisbane wedding ceremony for their couples. The following advice is from three experienced marriage celebrants: Just Hitched by Jacinta, Venita Manning Wedding Celebrant and Jennifer Cram Marriage Celebrant.
This advice will be ALL you need to make your ceremony special!
From the outset stay true to yourself and your relationship. If you prefer a more traditional Brisbane wedding ceremony, then find vendors that fit the bill. If you prefer relaxed, fun and non-traditional then follow that path.
Select the celebrant that speaks your language and understands your humour. If you click when you first meet, and feel like you could cheers to a glass of bubbly at the end of your ceremony, then you have found your celebrant.
Surprisingly, there are few legal elements in a ceremony. The majority of the content should be made up of all the things that relate back to you, the couple. To personalise your ceremony your celebrant should have a bag of tricks and inclusions to make the proceedings all about you.
Some of the ways your celebrant can personalise your ceremony include helping you to write personalised vows to each other. If you are brave, allow guests to fill in your blank vow cards. Some couples choose to pull meaningful lines out of a hat, while other couples may write a couple of ninja vows for each other to say. Either way, your vows are your choice and they should reflect you, your partner and your partnership perfectly.
Play Games at your Brisbane Wedding Ceremony
If games are your thing, why not throw some individuality into the mix? Play heads and tails to select your witnesses, or perhaps a lucky seat will decide.
Who's going first when delivering your vows? Why not paper, scissors, rock to decide?
Are cocktails your thing? Let's create one that is unique during the ceremony and share a little toast. Love to sing? Then maybe flash mob is more your style?
If you are a couple who don't love poems or readings then don't include them. If a romantic poem is a part of your story then weave it into your ceremony.
There is no right or wrong in personalising your ceremony or finding ways to make it unique. As long as it is a true reflection of your relationship then you will have a winning moment.
Personally, I gather my information from meeting couples face to face and in the form of a questionnaire. This allows me to tap into what makes your relationship unique and tick. It gives me the inside goss on all things you, and helps me to weave your story throughout the ceremony.
For the past 9 years I have had the privilege of marrying so many couples. Couples that I take the time to get to know and some of which I am still friends with years later. Every couple has a unique story to tell and I love every part of portraying that through their ceremony.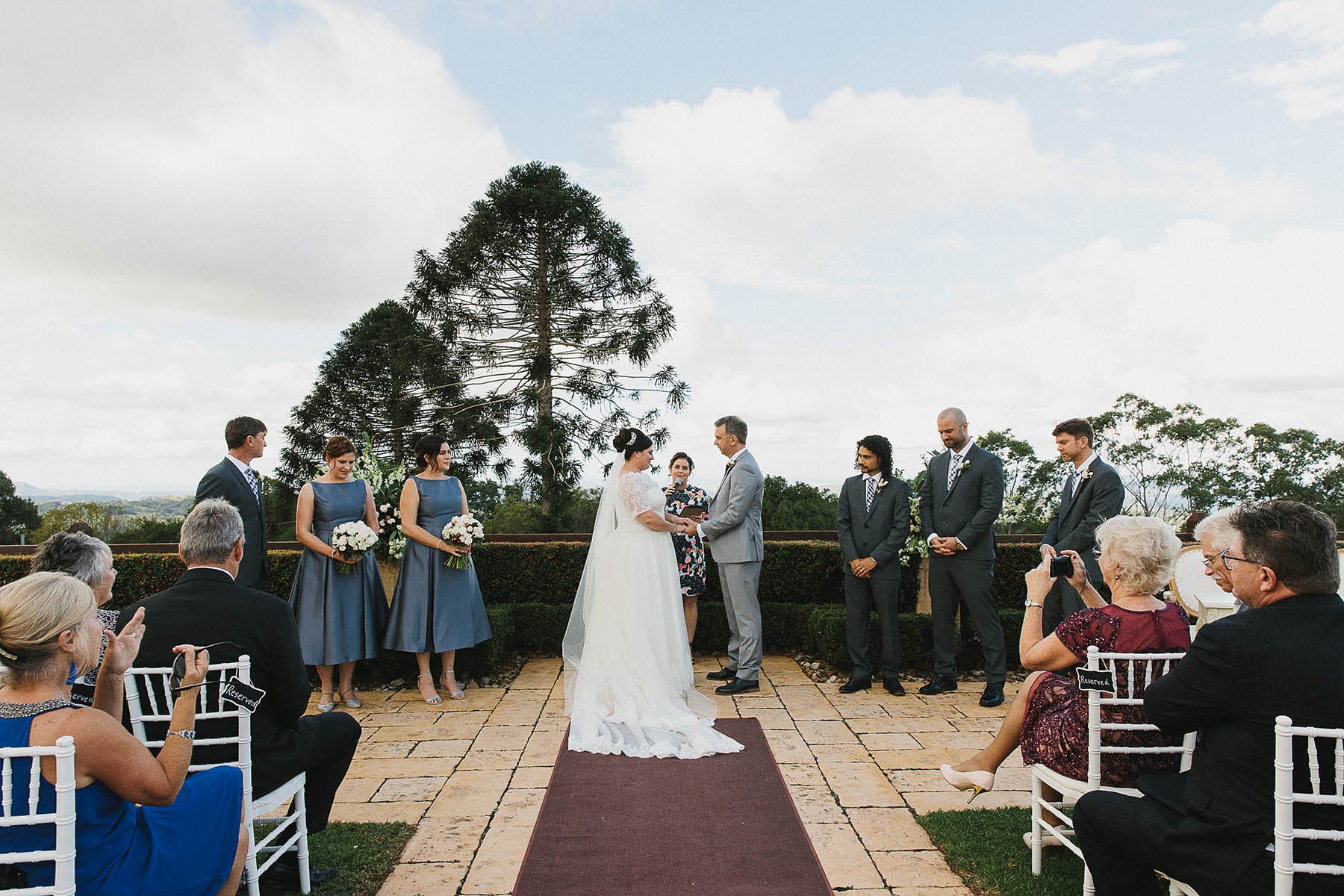 If you think Jacinta sounds like the perfect celebrant for your Brisbane wedding ceremony then get in touch with her at Just Hitched By Jacinta.
Venita Manning Wedding Celebrant
I think one of the biggest things when organising your wedding is remembering what it really is all about. It is about marrying the love of your life. Sometimes we get caught up in all the small details of planning a Brisbane wedding ceremony. We forget about the big picture.
Choose the right Vendors for your Brisbane wedding ceremony
Choose vendors that you really connect with and you trust with all the details. That way you can relax and enjoy the lead up and the actual day. Hire the best celebrant you can for your Brisbane wedding ceremony. This person is in charge of the start of your big day. The first big impression. Make sure they make it fun and enjoyable for you and your guests.
Hire the best photographer you can. Photos will be your most prized possession in years to come. They will bring back so many memories but most of all they'll bring back all those feelings you had.
Personalise everything. This is your day, so make sure it reflects everything about you as a couple.
The Wedding Ceremony
Make sure your ceremony is written about you as a couple. How your love story began (no matter how cheesy). What you've achieved as a couple. Where you see yourselves in the future.  Your engagement story. Add as much personality into it as possible by giving your celebrant all the juicy details.
The Vows
It may seem daunting but writing your own vows is key. Ensure you use your own language. By all means Google ideas but please don't copy. And throw in some funny lines ie: I promise to try and not put my cold feet on you in Winter. These lighthearted one-liners will remove that lump in your throat and stop the quivering lip. A little giggle from you and the guests is a huge reliever. Remember that the vows are ultimately just for you and your partner.
Don't add fillers to your day/ceremony that don't have any real meaning to you.
Readings / Rituals / Birds / Butterflies – unless there is some truly personal meaning and connection to you both as a couple, don't do it! They may look/sound good on Pinterest but in real life it rarely adds anything to your ceremony.
And finally, don't get caught up in perfection. Your wedding day is about the two of you celebrating the start of your married life with friends and family. This is only the beginning and the best parts of life are rarely ever planned. Just enjoy every moment, soak up all the joy, love and bliss and don't forget to kiss that love of your life as much as possible. Venita xx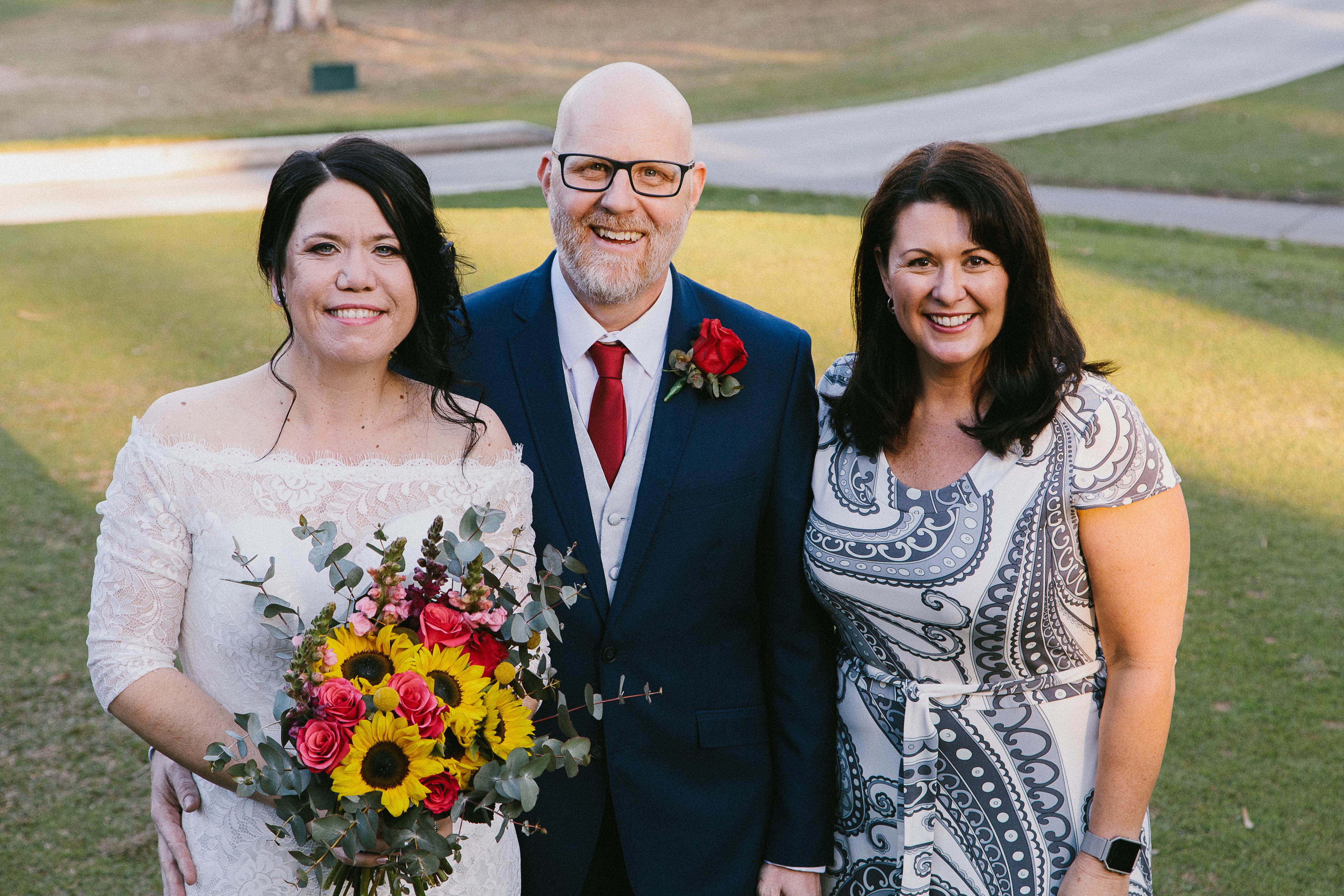 If Venita Manning sounds like the perfect celebrant for your Brisbane wedding ceremony you can drop her a line at Venita Manning Wedding Celebrant.
Get your Notice of Intended Marriage right …it will save you all sorts of grief and hassles down the track. HINT: Make sure that you refer to the information on your birth certificate, divorce document etc to make sure that all names are spelled correctly, and that all information accords with what's on your other vital documents. And don't forget you have to show all these documents to your celebrant.
Choose your vendors wisely
It is not enough to like them . After all we all have that one friend who we love to bits but also know is hopeless in various practical ways. HINT: Each of your vendors needs to be highly skilled in their own area, flexible, and open to what you want for your wedding. They also must be able to work as a part of the team while putting your needs and wants first.
Rip up the "rule" book
There is no rule book. And your wedding doesn't have to follow the formula set by Queen Victoria – aka the "traditional" wedding. So plan your ceremony and your celebration based on what you both love. What speaks about who you are as a couple, and not by what you think other people will expect. Sharing your love, plus giving your guests a taste of who you are and what you love, will ensure that everyone (including the two of you) will enjoy your day.
HINT: Don't believe advertising that suggests any particular person has a monopoly on giving you the right to do this. Couples have been ripping up the rule book in one way or another since the 1960s-1970s. A celebrant-led wedding ceremony gives you the utmost freedom because we don't have to deliver a ceremony set either by a particular denomination or by the registry office. The trick is knowing what you have to do legally, and that everything else is optional.
Have a Plan B
HINT: The classic Plan B is for an alternate ceremony space in case of wet weather. But heat, high winds, access cut off by flood or fire, and sudden unavailability of your original venue could be a problem, too. So, early in your planning, develop Plan B1, B2, B3, and so on specific to each situation. Decide who will make the call, should the situation arise, and make sure all of your wedding vendors know what the plans are, and who will activate them.
Curate your attitude and your ability to let go
Wedding planning is full-on. But it is made much easier if you hang on to your sense of humour and take the bumps along the way in your stride. HINT: Make time to chill, hang out with one another, perhaps watch some of those hilarious wedding movies about pre-wedding madness, and remember that your relationship – with one another, and with other important people in your life – is the most important thing. Make "Our wedding doesn't have to be perfect to be perfectly wonderful" your mantra. Simply being relaxed about everything makes the whole thing an experience rather than a stressful chore.
Make your Brisbane wedding ceremony a feast for all of the senses
HINT: Pay attention to how your venue smells. Choose fantastic music and provide amplification to ensure everyone hears both words and music. Make sure there is plenty to look at by having a ceremony that is more than just talking heads. Work with your celebrant to make sure that the ceremony touches the emotions in more than just the vows. Choose food and wine carefully – it doesn't have to be expensive to be tasty. Think about what your guests will be touching – include different textures in table decorations, furniture, and so on.
Be inclusive
Make your guests an integral part of the ceremony. They aren't an audience. They are witnesses and participants. HINT: face them (except for the vows when you should be facing one another), have your celebrant stand off to one side, make sure that your guests are acknowledged and thanked in the ceremony, and involve them in it.
Make your vows personal
Your vows are your performance targets for your marriage, so negotiate what you will promise one another. Seriously consider both making the same promises, write your own, or work with your celebrant to write them. HINT: Because in a celebrant-led ceremony the vows aren't the only option for personalisation, don't feel you have to recount your whole relationship in your vows! Keep them short and focussed on how you commit to treat one another in your marriage.
Be nice to your wedding vendors
Remember that old saying about flies, honey, and vinegar? HINT: It is a normal human reaction that people, including those you are paying for a service, more readily go the extra mile, give more and do more for people who are nice!
Be helpful to other marrying couples
It's OK to boast a little about your good taste and good judgement in choosing your vendors. It helps other couples to choose wisely for theirs. HINT: Post reviews, mention your vendors in social media posts, complete their feedback forms etc.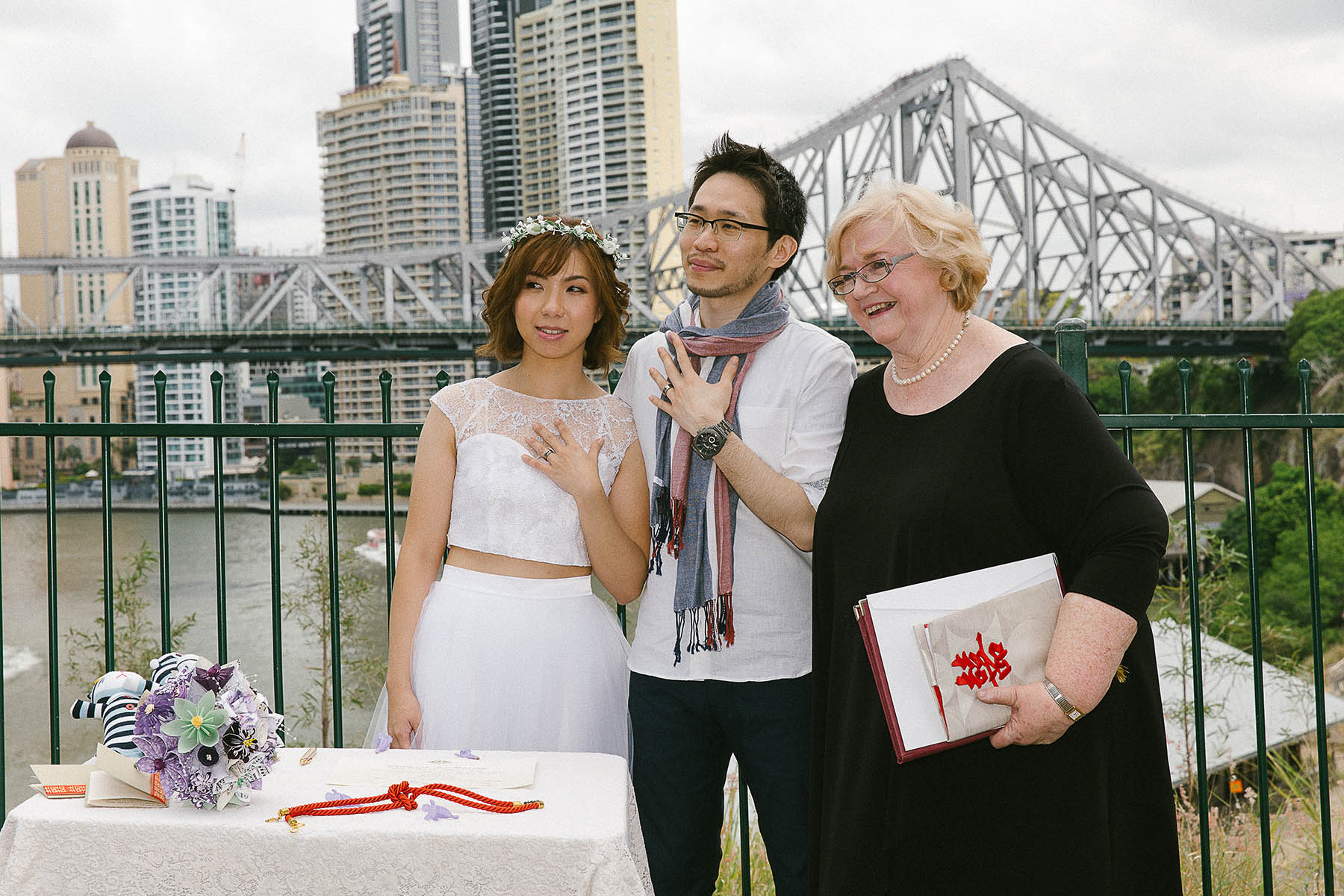 If Jennifer Cram sounds like the celebrant for you drop her a line at Jennifer Cram – The Celebrant Who Gives You More.
And if you're looking for a photographer for your Brisbane wedding ceremony and want a photographer who knows their stuff, drop me a line here. I offer a wealth of experience and photography packages to suit all weddings! From a  small 3 hour elopement or intimate wedding, through to all day coverage. All packages include ALL photographs taken on the day and are edited in-line with my editing style. Each wedding photography package includes credit towards a stunning fine-art album and your images on a USB. Custom packages are also available so please get in touch for a custom quote or feel free to call for a chat on 0418 882 778.
About Alison
Alison Cooke Photography is a Brisbane wedding, portrait and newborn photographer. Alison is an award-winning member of the AIPP with over 20 years experience in the wedding industry.