Choosing the right newborn baby photographer
So, your newborn baby has arrived! Congratulations! And now it's time for you to document this amazing time of your life with some newborn baby photography. But, how do you know who to choose the right baby photographer?  The truth is, baby photography is a specialist service and just because someone has a camera, does not mean they should be photographing your precious baby.
Be wary of Facebook photographers
Unfortunately, photography is an unregulated industry. That means anyone can buy a camera, create a Facebook page and decide to call themselves a newborn photographer. And the trouble is, it's not just people offering cheap and poor quality images. There is a real risk that your tiny and fragile newborn is at risk during one of these amateurish newborn sessions.
Choose the right baby photographer – choose a professional photographer
To be completely honest, I can't believe an amateur would knowingly practice unsafe photography on babies. But therein lies the problem.
They don't know what they don't know.
For example, I see numerous posts on community Facebook pages offering cheap sessions for babies. These people generally have NO idea what it takes to photograph a baby. But more importantly, they don't know how to safely handle babies.
Because they've never been taught!
So, how could they know what is safe and what isn't?
I mean, a newborn is so fragile and there are so many ways a baby can be harmed when handled incorrectly.
And yet every single week I see 'wanna be' photographers offering cheap newborn photography to 'build my portfolio'. And I see parents happy to take them up on their offer.
There is an actual skill to posing newborn babies and many of my colleagues (myself included) have learned how to do it safely. There are also tricks we use that help keep baby settled, like like room temperature, wrapping baby and positioning baby's head safely and comfortably.
All of these skills are taught to photographers by experienced professional photographers and health experts in the newborn industry.
Don't let photoshop fool you
That's right! Don't be fooled by Photoshop. There are many newborn poses that are just NOT safe to try in reality. For example, babies hanging in a hammock, or in a tree or sitting upright in a cocoon. While these poses look super cute, the reality is they're not real! These images are created in post-production with the magic of Photoshop and the photographer's editing skills.
Do not let anyone pose your baby in an unsafe position. If you feel uncomfortable during a newborn session, always voice your concerns to the photographer. The photographer can then explain what they are doing and reassure you of your baby's safety.
If you're still concerned, just ask the photographer to stop the session.
Ready to book your newborn baby photography? Book here.
How to tell the difference between a professional and a hobbyist
But there are tips to choose the right baby photographer and safeguard yourself from booking an inexperienced photographer.
Check out their website portfolio. A professional photographer will have a website. If they only have a Facebook page, they're not a professional.
Look for reviews on Google. Google reviews are a great source of honest feedback as they're not moderated and cannot be changed or deleted.
Look at all their newborn photography. Is the quality consistent? Do they have a large portfolio of newborn photos? It's far too easy for people to steal others photographs online so look for consistency in their portfolio.
Does the photographer have a studio? Most newborn photographers who offer posed sessions will have a studio. This allows for more control over the session and is easier when using newborn props for posed sessions.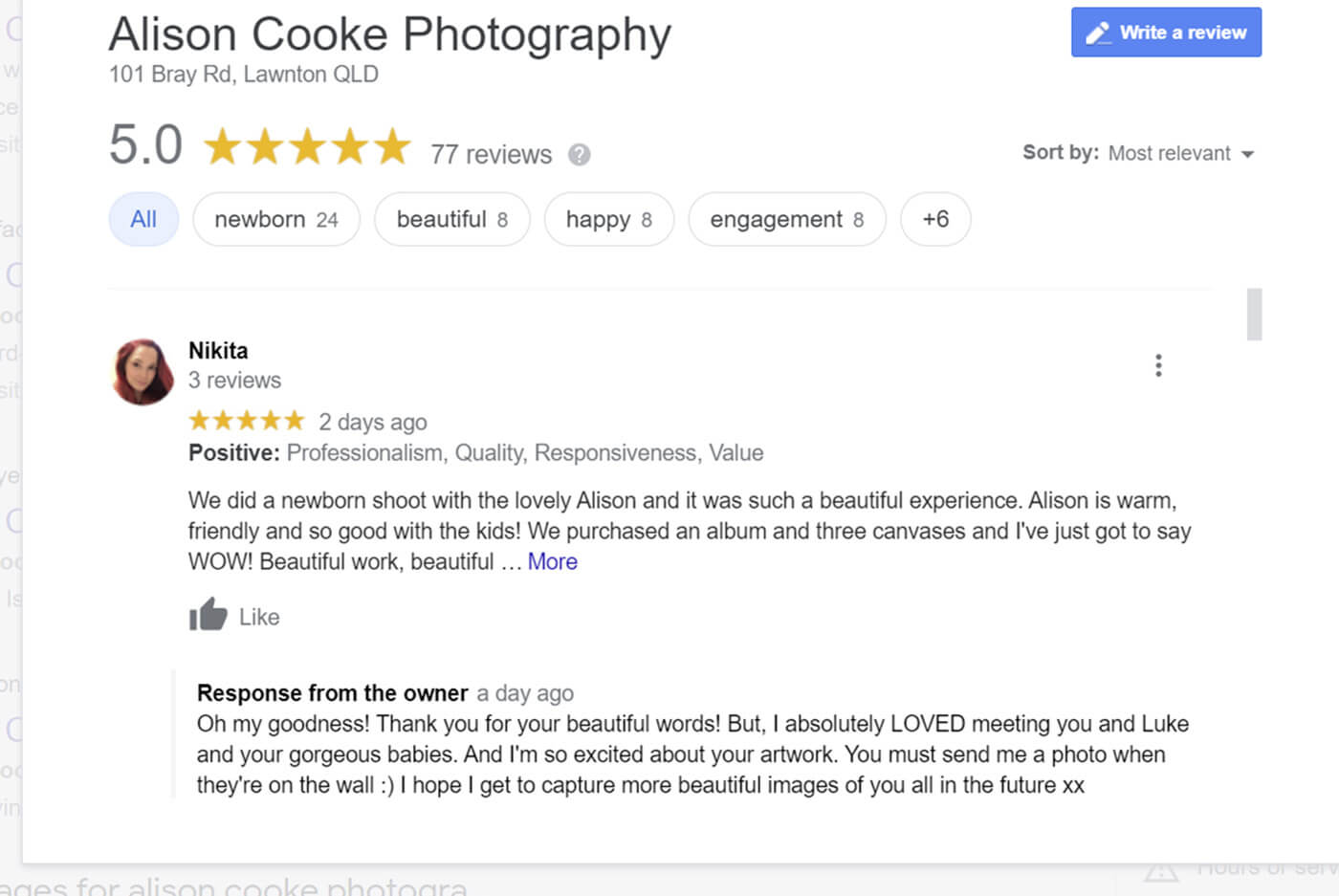 Vaccinations
While this isn't specific to newborn photography, it is important. Is the photographer vaccinated? Because vaccinations aren't compulsory, your photographer may not be current with their vaccinations. Or, not believe in vaccinations at all.
So, the responsibility lies with the parents to ask this question.
And truthfully, I'm rarely asked! But I always disclose my vaccination status when talking to my newborn clients.
But I wonder, how many hobbyists would bother keeping up-to-date with their vaccinations?
What's included in your photography package
Most of the professional newborn photographers I know offer prints and products. This is because your baby's images need professional printing to look as they are intended to look. Newborn photography can be costly, but it is a specialist skill and the products provided are of the utmost quality. It's also because of the expense involved in running a newborn photography business.
For example:
The cost of a studio
Buying newborn props
Business insurance
Public liability insurance
Camera equipment
Editing and computer software
Continual professional development
All these things are expensive! So if you see someone advertising cheap newborn photography and it seems to good to be true, it is.
Newborn photography isn't cheap. But it is always worth it. Your new baby is little for such a short time. In an instant your tiny baby will morph into a chubby toddler. And you'll wish you'd preserved those early days with newborn photography.
Newborn photos may seem like a luxury item but I've NEVER had a parent say; 'Oh, I wish I'd never had these adorable photos taken of my baby'.
Choose the right baby photographer – Read reviews
"We did a newborn shoot with the lovely Alison and it was such a beautiful experience. Alison is warm, friendly and so good with the kids! We purchased an album and three canvases and I've just got to say WOW! Beautiful work, beautiful person and definitely the photographer you will want to capture all of your special moments. Whether it's a wedding, newborn or family shoot, Alison is the photographer you're looking for." – Nikita
Choose the right baby photographer – Read reviews
"Alison did an amazing job on our wedding day so we had no doubt in our mind that we wanted her to capture our growing family. She has since done an amazing job on the two new born photos shoots. We will definitely be back when number 3 arrives!" – Eamon Lindsay
Choose the right baby photographer – Read reviews
"We highly recommend Alison! She shot our wedding a few years ago and more recently she has provided us once again beautiful photos of our baby son!
Alison is a lovely lady who makes you feel at ease and takes fantastic photos that will not disappoint! She provides a quality product and service. We love all of the pictures that she has captured for us over the years.
For those once off photos that you will treasure forever- Alison is your lady." – Heather Needham
Choose the right baby photographer – Read reviews
"We would highly recommend Alison to anyone looking for a great photographer. She's not only has a gift for taking great photos, but is also personable, fun and easy going. We were so impressed with the photos of our daughter, we went back for newborn photos of our son. Alison is fantastic with newborns, she is the baby whisperer. And we are loving the finished product of the frames and prints. Thank you Alison!" – Brad Grant
Alison Cooke Photography – North Brisbane Newborn Baby Photography
Congratulations on your baby! Photographs of your new baby are such a precious keepsake to document your little one's arrival. Based in Lawnton, north Brisbane, I have a beautiful studio filled with props and accessories. I'm an experienced photographer and an Associate member of the AIPP (Australian Institute of Professional Photography). So, if you're looking for a professional and experienced north Brisbane photographer please drop me an email here.