How to choose the right newborn baby photographer Brisbane
Well, first of all, CONGRATULATIONS on your impending arrival! Having a baby is the happiest time in your life and like many parents, you want to preserve this special time with newborn photography. But there are so many photographers out there so how do you know who to choose? Well, there are a few things you can do to ensure you're choosing a professional, an experienced and safe newborn baby photographer Brisbane for your little one.
What You Should Know About Your Newborn Photographer
There are a few really important things you should ask before you book a newborn photographer.
Are their vaccinations current? Do you really want to risk your baby's health by choosing an un-vaccinated newborn photographer?
Do they have experience handling newborn babies? Babies are fragile so it is important your photographer knows how to handle a baby safely during the shoot. Please ensure your photographer knows what they are doing. And always ask the photographer to stop if you feel uncomfortable with the way your baby is handled.
Is the newborn photographer a member of a professional organisation like the AIPP?
An Accredited Professional Photographer is a photographer, who doesn't just claim to be a "professional" but earns that title by successfully completing the rigorous AIPP accreditation process.
Accreditation is designed to give the client, confidence that your Professional Photographer is a proven, experienced, technically capable, professional practitioner, who complies with all legal business requirements. A photographer who has appropriate insurance and conducts their business by the Code of Professional Practice.
An AIPP professional also fulfills the requirement to continually improve their photographic skills by continuing their professional development.
You can read more about professional AIPP photographers here.
Search for newborn baby photographer reviews
Reviews are a great way to read about other people's experience with a newborn photographer. So, have a look on Google and read some reviews.  Below are just a few of my happy families, but head on over here to read more.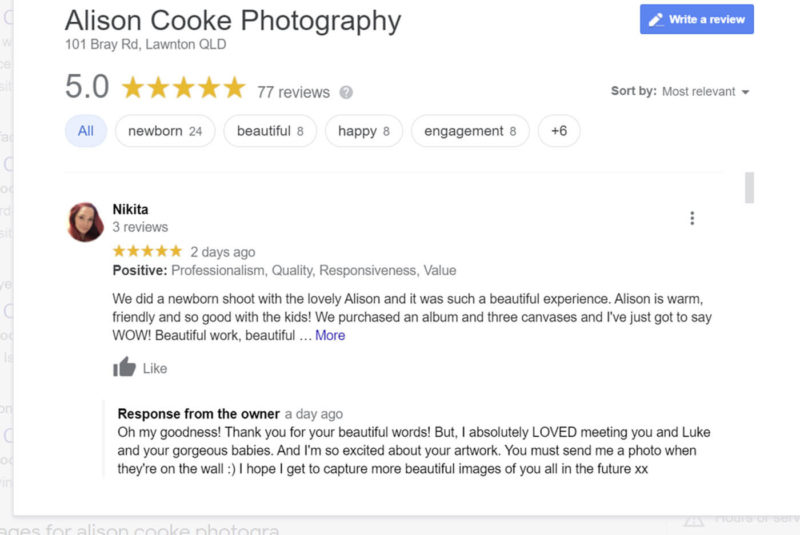 Brad Grant: We would highly recommend Alison to anyone looking for a great photographer. She not only has a gift for taking great photos, but is also personable, fun and easy going. We were so impressed with the photos of our newborn daughter, we went back with our son. Alison is fantastic with newborns! She is the baby whisperer. And we love the finished product of the frames and prints. Thank you Alison!
Fiona Lavender: We recently had a newborn and family session with Alison and received our photo pack. Having a new baby is a whirlwind of hormones, highs, lows and sleep deprivation and I wouldn't have wanted to have worked with anyone else during such a special time in our lives. Alison has such a gentle, fun loving, understanding nature on top of experience, professionalism and talent. I highly recommend Alison, especially if you're anxious or nervous about having family photos.
More Kind Words
Kellie Houghton: Could not recommend Alison enough! Our photos of our little girl and our family turned out amazing and our large print of our daughter is absolutely perfect. It looks amazing in our home 🙂 Thank-you again Alison!
Cameron White: We had a newborn photo shoot with Alison and it was an enjoyable experience. Definitely recommend. Excellent photographer and great for newborns.
Mikki Lee: Had my newborn son photographed by Alison, amazing experience and beautiful photos I'll cherish forever, could not recommend her more.
Amy Mawn: Alison is amazing! She did an amazing job of our wedding pictures, so much so we went back to her when we had our baby boy. She is very professional and a lovely person to work with. Highly recommend!
Amy Otway: Alison has now covered our wedding and our first baby's photo shoot and we are in love with the photos! She makes you feel comfortable and able to share a laugh with you on the day whilst getting those perfect shots. The newborn shots were amazing and Alison was great with our little boy and captured all the right poses. I would highly recommend Alison for both weddings and newborn shoots.
Find A Professional
So, there you have it! These are just a few tips to help you find a professional newborn photographer for your baby. If you'd like to book me for your newborn photography, I'd love to meet your little one. Drop me a line here.
About Alison – newborn baby photographer
Alison is a north Brisbane based wedding, family, newborn and family photographer with over 22 years' experience. Alison Cooke Photography was voted one of the top 10 wedding photographers in Brisbane by the Courier Mail and one of the top 30 wedding photographers by The Wedding Diaries. She was also named a finalist in 2018 and 2019 AIPP  Portrait Photographer of the Year. Alison has over 22 years' experience in the wedding, family and newborn portrait industry. If you're looking for newborn photography in the north Brisbane area, you can drop Alison an email here.