Choosing the Best Brisbane Wedding Photographers
So you're engaged! Congrats, that's fantastic news. Now the hard stuff begins. How do you know who the best wedding photographer is for your wedding day when there are so many photographers in Brisbane? Well, you can start by doing your research.
Ask Your Friends
Because one of them has done this before! And your married friends are a wealth of information. They may have used a fabulous photographer at their own wedding. At the very least they've researched who the best wedding photographers in Brisbane are. So ask for referrals! Personal recommendations are one the most common ways I book couples. If you're ready to book me for your wedding day, you can get in touch with me here.
Establish Your Wedding Style
Have a think about the style of photos you want for your wedding. Because photography is very much like fashion. Some people rock the grunge look while others wear suits and designer dresses. Everyone has their own style and that's okay! After all, life would be so dull if everyone dressed the same right? And photography is the same! So make sure you've decided on the style of photography you want, from the editing style to the capture style. Some photographers' style is strictly posed, or a more traditional approach to weddings. While other photographers may have a documentary or candid style of photography. And yet there are some who are a mixture of both. So work out your style and it will help narrow your search for the right photographer for your wedding day.
Search Best Brisbane Wedding Photographers on Google
A Google search is one of the easiest ways to find wedding photographers. In fact, if you search "Best Brisbane Wedding Photographers", I actually appear on MYWED and Wedding Diaries (among others), which is nice to know! Also, when searching for Brisbane photographers, have a read through their Google reviews. Google reviews are a great source of feedback as the comments can't be moderated or altered. Look for happy couples and glowing feedback about wedding photography on the reviews.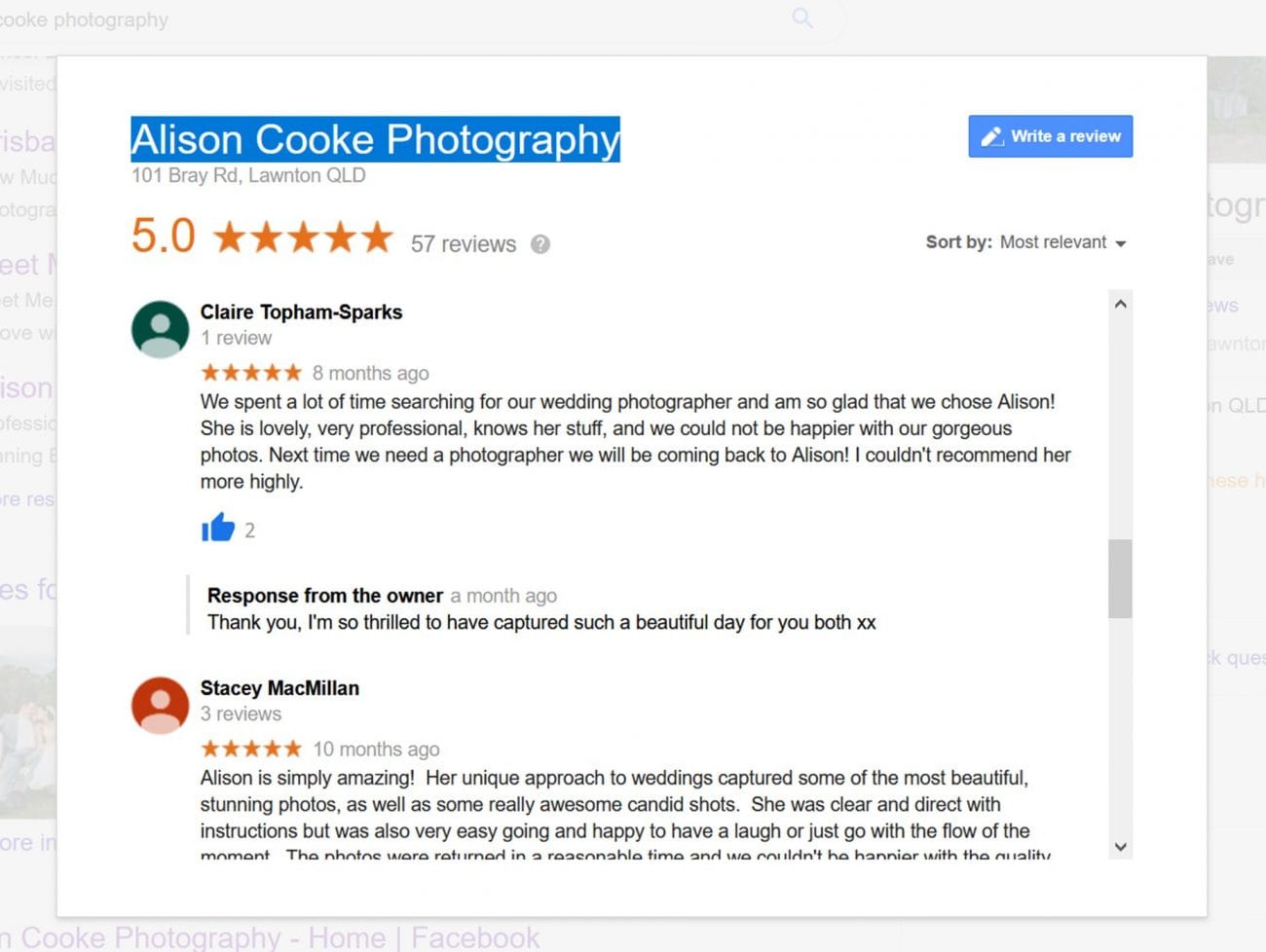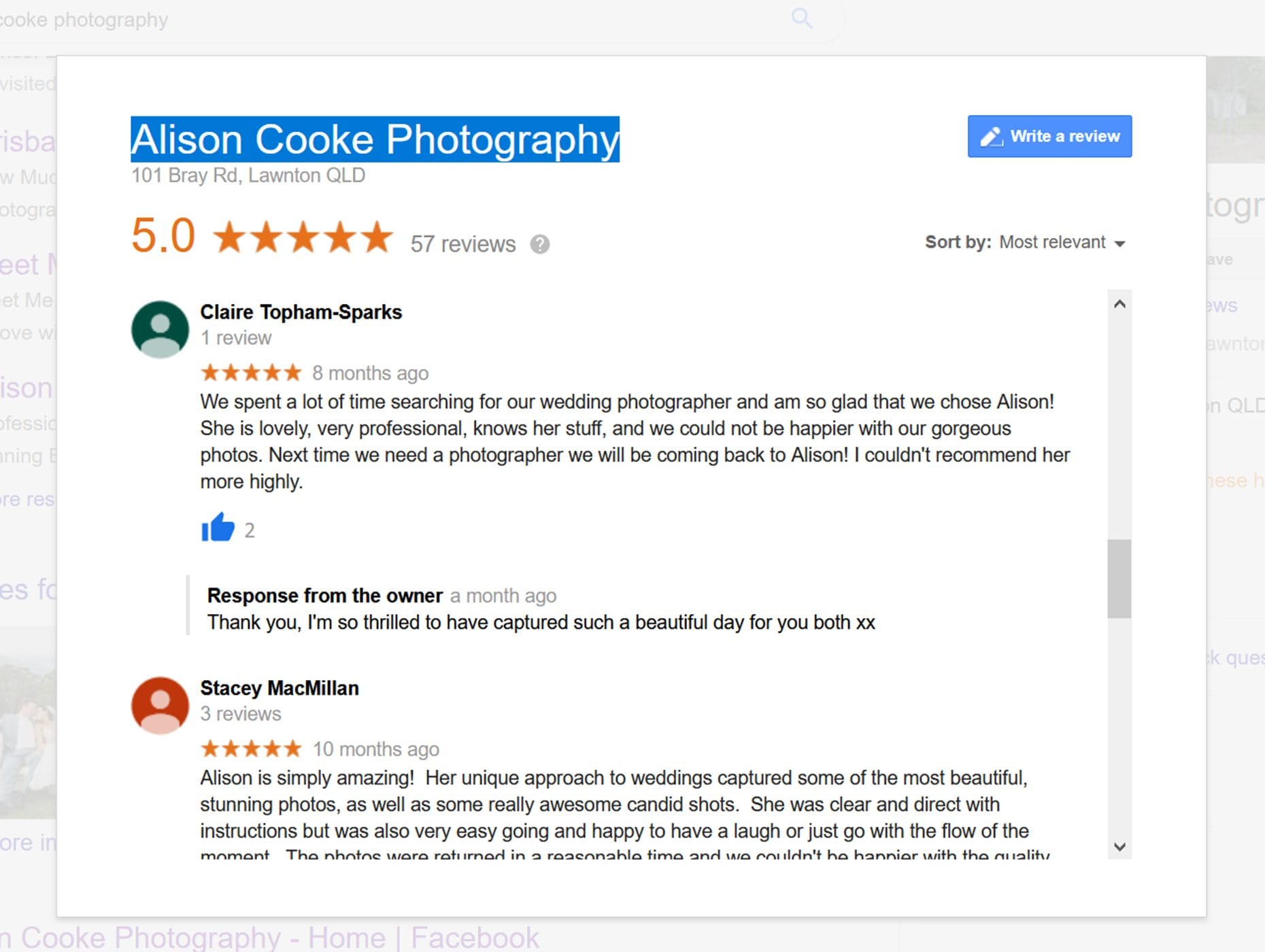 Meet Your Photographer
An in-person meeting is the best way to establish if the photographer is the right fit your wedding day. And not all photographers will be and that's okay. Everyone has different personalities so it's important to find someone you feel comfortable with and can have a laugh with. The more laughter the better the photos the will be!
View The Photographers' Portfolio
An experienced wedding photographer will have a fabulous website full of stunning wedding images. And they should all be fantastic images! Remember, the wedding photographers' best work should be on display so if you don't like the images, keep on searching. And view their portfolio in person. Visit their studio and view printed photographs, framed art work and fine-art albums. Wedding photographs are so much more beautiful in print so ask to see their products. You can see a sample of mine here.
And make sure you're looking at a wide variety of wedding images. The best wedding photographers will have photographed 100's of weddings so there should be no shortage of variety.

Ask Your Wedding Photographers Questions
It's completely fine to ask questions; what kind of gear does the photographer have,  are they insured, how much experience do they have and do they have any professional accreditation? For example, many wedding photographers are members of the Australian Institute of Professional Photography (AIPP) and a quick search of the members brings up a bunch of the best wedding photographers we have in Brisbane. While there are many fantastic photographers who aren't members, this is a great way to create a shortlist of photographers and you'll know that you'll be dealing with a professional.
And finally, if you'd like to read through some of my best wedding tips for planning your wedding day, check them out here.
Again, congratulations on your upcoming wedding and if you think I could be the photographer for you, please drop me a line here.
Words From My Happy Couples
Heidi Richards: When looking for a photographer for our wedding we trawled the internet looking at many wedding photographers websites, but hardly any stood out and impressed both myself and my husband. But then we found Alison's website and fell in love with the images presented in the gallery. We knew from that moment we had to schedule a meeting with Alison to check out her portfolio and meet her in person.
Upon meeting Alison we were impressed with how friendly and welcoming she was whilst maintaining a professional manner. And needless to say, we booked her right there and then. We added an Engagement Shoot to our package (which we highly recommend) to get familiar with being on the other side of the lens, as well as to break the ice before our big day.
When we received our images within a very reasonable time-frame, were super impressed with them. And we immediately had some of the stunning images printed to go up on our walls. When it came time for our wedding, Alison was prompt, helpful and friendly, as well as professional at all times. In fact, we hardly knew she was there during the ceremony and afterwards she went above and beyond our expectations with changing locations around our venue to get some amazing images. If you're looking for a friendly Brisbane wedding photographer who knows her stuff and produces high-quality images and products, then we recommend you contact Alison for a consultation.
Leesa Webster: We have experienced the artistic and photographic talents of Alison for an engagement photo shoot and for our wedding. Both our engagement and wedding photos are amazing. Alison is a very professional and fun loving photographer and she quickly made us feel comfortable.
We have had so many comments about our photographs. They are perfect…the only difficulty being that there are so many amazing photographs that we are having trouble selecting for our album! She has helped us capture memories that will last a lifetime.
We highly recommend Alison for any event or occasion. She is very approachable and available via telephone, email and face to face.
Olivia and Ben Spencer: Alison was fantastic!! There was nothing that worried Alison everything just ran so smoothly and she captured it all! We couldn't be happier with our photos and can't wait for our album! Would definitely recommend Alison!
Stacey Banks: Alison goes above and beyond. She listens to what you want and we have always been amazed at the result. Highly recommended we could not be happier with the photos we receive ?
Go on, pick up the phone and call me!
So there you have it! Just a few kinds words from some of my 700 wedding couples I've photographed over the years. If I sound like the Brisbane wedding photographer for you, pick up the phone and give me a call on 0418 882 778.
I can't wait to hear all about your fabulous wedding plans!
About Me
If you've searched best Brisbane wedding photographers and found your way here,  I'd love to hear from you! I have photographed over 600 weddings during my 20 years in the wedding industry. I love weddings and will help make your day as amazing as you've always dreamed! My style for your wedding day will be lots of fun, creative and professional. And, I am an award-winning member of the AIPP.  So if you're looking for a wedding photographer please give me a call on 0418 882 778 or get in touch here.
Check out more fabulous wedding photographs here