How to get married on a budget
If you're getting married then I'm sure you've already planned a budget. From the wedding dress, to the flowers to the venue and the wedding photography. Getting married can seem like a money pit. But there's no reason why, with a bit of forward planning, you can't have a beautiful wedding. So here's a few tips on how to get married on a budget.
The Cost Of Weddings
According to an Easy Weddings Australian wedding industry survey of 3,300 couples, the average cost of a wedding was $31, 368. However, this doesn't need to break the bank! The earlier you start planning your wedding, the earlier you can start paying off those big-ticket items. And by paying small increments each week leading up to your wedding, you won't feel the squeeze on your budget quite so much.
The Order Of Booking Your Big-Ticket Items
When it comes to weddings, most couples pick the date, followed soon after by choosing their ideal venue. According to the survey, the venue is the biggest part of your wedding day budget with the average cost being around $14,500. However, if you don't mind getting married during the week, there are many beautiful and affordable wedding venues in Brisbane. And many offer mid-week deals, therefore saving you money and making your wedding even more affordable. Some of the venues I've photographed mid-week weddings at are:
Bundaleer Gardens, Brookfield (also offer 'pop-up' weddings for small weddings)
Boulevard Gardens, Indooroopilly
After you've found the perfect venue, it's usually time to book your celebrant. I've worked with quite a few wonderful, professional and affordable celebrants over the past 20 years. You can check out my list of favourites here.
The Celebrants
Many couples say the ceremony is the most important part of the day. And why wouldn't it be? It's what the whole day is about; the moment you become husband and wife, wife and wife or husband and husband. So, it's important to find a celebrant who is experienced and has the proper equipment. I can't tell you how many times I've photographed a wedding and the microphone didn't work. So, no one could hear what the couple were saying!
And the vows are so important. If you're not great with words, many celebrants will be able to help you write them so you can express exactly what you want to say to your loved one. Or, get an experienced writer to help you write those touching vows or that amazing speech. If you'd like some tips on how to make your ceremony unique, check out this advice from experienced celebrants and you can read some useful budget saving tips here.
And even if you're getting married on a budget, you should always choose a celebrant who you feel a connection with. Connection is a BIG deal with wedding vendors. After all, they're sharing in your day too, so you want to really like them!
How to get married on a budget – Photography is important
And third on the list of big-ticket items is the wedding photographer. Now, according to the Easy Weddings survey, couples look for a photographer who they can trust above all else. Couples look for professionalism, experience and connection. And while it may be important to work within a budget, it seems couples value skill and experience.
A great place to search for a pro is on the Australian Institute of Professional Photography website. The AIPP is the governing body for professional photography in Australia so you're bound to find an abundance of skilled professionals with a wealth of wedding experience and within your wedding budget. And as the survey indicates, the average price of wedding photography is $3000. That seems totally affordable for an investment you're going to have an entire lifetime, right?
And if you'd like a custom wedding day package, I'm happy to design one for you. Payment plans are also available to make your Brisbane wedding photography even more affordable. Check out some pretty wedding photos here.
What to Look For?
The survey also says (now I'm beginning to sound like a game show host) that couples found it important to book a photographer they felt comfortable with. Which totally makes sense. I mean, if you're uncomfortable, then your photos are going to look a bit awkward too! They also loved a photographer who gave them previews of their wedding photos shortly after the wedding, listened to what they wanted and didn't do posed or cheesey photos.
And they appreciated a photographer who went over and above on the wedding day to help them with all the little things. You know, fixing the dress, pinning buttonholes, driving that forgotten relative to the ceremony. Don't laugh, it happens more often than you think. And couples also like to meet with their Brisbane wedding photographer prior to the wedding day. If you'd like a photographer who ticks ALL of those boxes, the drop me a line here
(yep, that's me below, fixing dresses and pulling out twigs)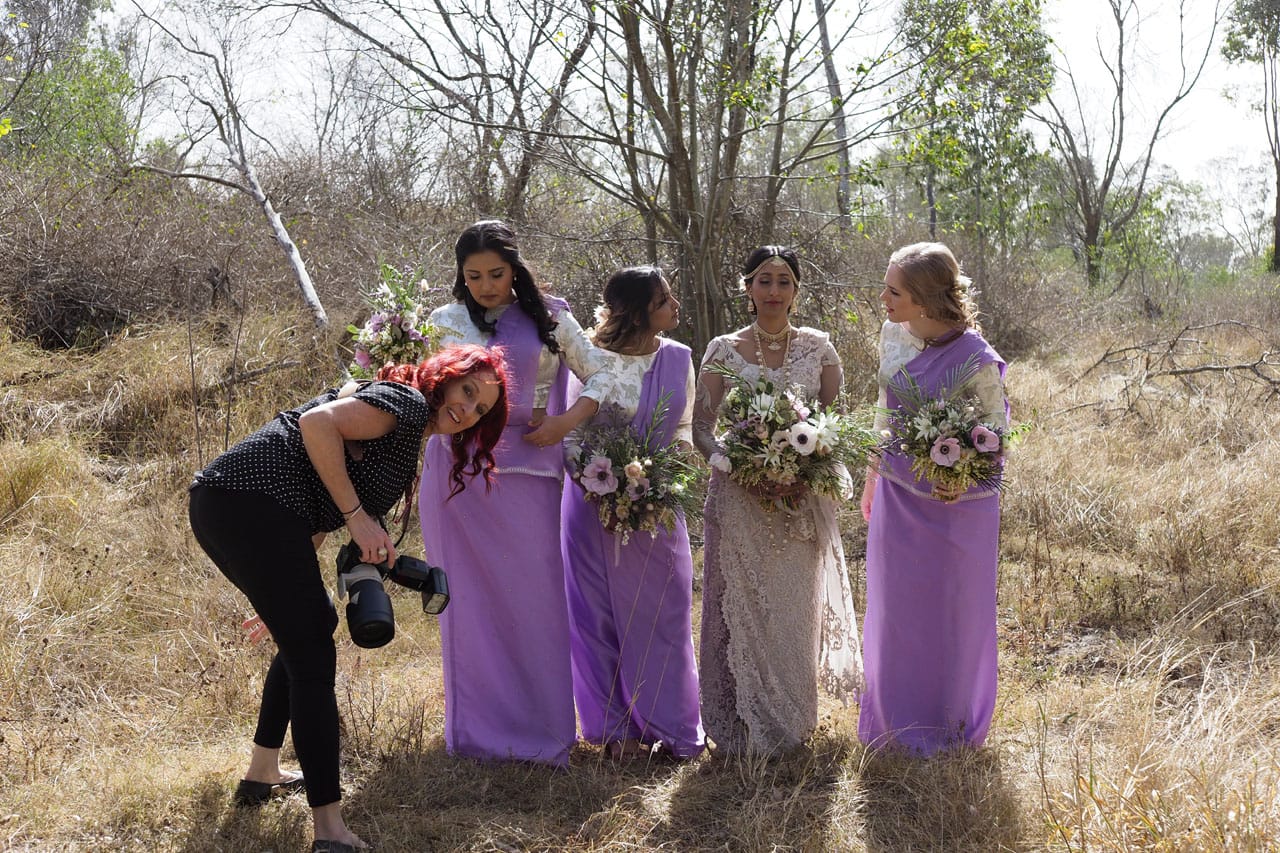 The Wedding Dress
This same survey shows that the average cost of a wedding dress is $2552. When you compare that cost, for a dress that you'll wear for just one day, to wedding photography that you'll keep forever, $3000 seems very affordable for wedding photography Brisbane.
Although for some brides, one wedding dress isn't enough. Or sometimes the wedding dress just doesn't let you break out your dance moves. So, they'll buy a second outfit for the reception. This was an old tradition for decades, when the bride would change out of her wedding gown into more formal attire. This outfit was worn at the end of the night as the couple were farewelled on their honeymoon. Usually the guests would form a large line or circle (or a conga line) and the bride and groom would run around saying their goodbyes to all the guests. This could be very interesting if there was an open bar at the reception 😉
How to get married on a budget AND honeymoon
Now, this is a big one too! And let's be honest, after all the work of planning your wedding and getting married, you need a holiday! According to the survey, the popular honeymoon destinations are the Caribbean, Fiji, Cruises, Europe, USA and Malaysia. Most couples reportedly embark on their honeymoon soon after the wedding and honeymoon for 15 blissful days. Ah yes, you can almost picture yourself can't you? Sipping cocktails out of a coconut shell while lazing on a banana lounge by the pool in Fiji. The honeymoon is almost more fun than the wedding!
But you don't need an exotic destination to enjoy your honeymoon. There are many beautiful locations throughout Queensland which are affordable and within driving distance.
Why not check out Airbnb  and explore some new locations? Try visiting the country or rural towns you've never heard of. And there's always north Queensland for those lovers of tropical destinations.
But accommodation through Airbnb is one of the best ways to save money on your honeymoon.
Destination Weddings
Speaking of tropical islands, destination weddings are becoming quite popular. Many couples are ditching the stress, the planning and fleeing the country to marry on a beach somewhere. These weddings are usually combined with the honeymoon and generally attended by just a few close family members and friends.
Wedding Cakes and Flowers
Now, I don't eat cake! Don't judge me, it's true. I wanted no input on what our wedding cake was made from, although I did specify the design. However, cakes are apparently all about looks! Multi-tiered wedding cakes and multiple flavours are the in thing! One of my couples had a cheese cake! And I don't mean a cheesecake from the Cheesecake Shop. I mean a multi-tier cake made from a variety of cheeses and decorated with dried fruit. It was amazing, as you can see below: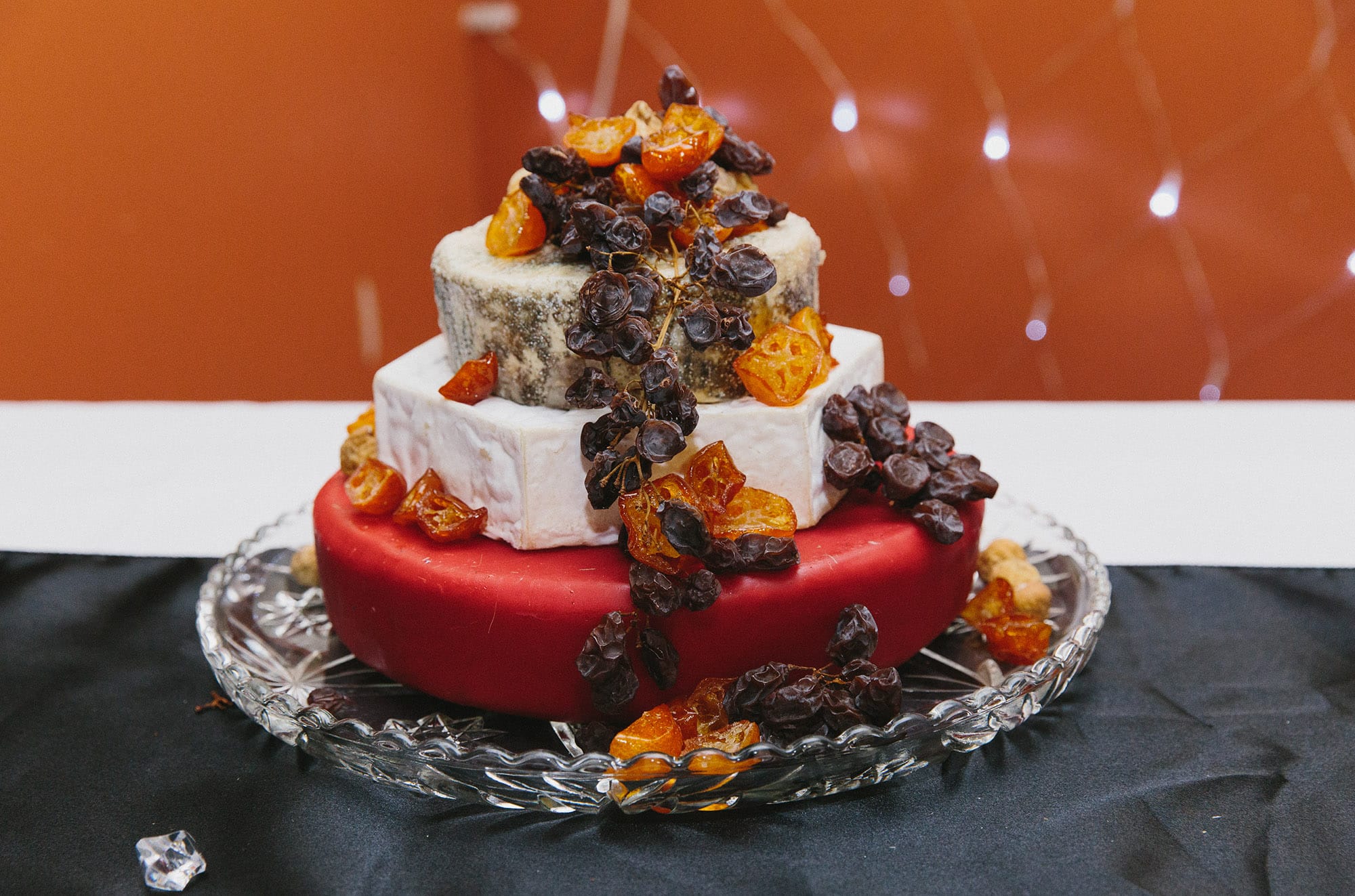 Anyway, I digress. The average cost of a wedding cake is $500 with the majority being chocolate or vanilla mud cake. Sounds much tastier than the old-fashioned fruit cake right?
However, many couples working on a budget choose to make their own cupcakes or even buy a cheesecake from the Cheescake Shop.
Because will anyone really care how much your cake cost?
Flowers on a budget
And then there's the flowers. Flowers are huge part of the wedding day. They're not only used in the bridal bouquet, but they decorate the venue, the cake and they look so beautiful! And smell amazing! Most couples will spend around $1500 on flowers for their wedding.  Although this will vary depending on the venue and the size of your bridal party. But just have a look at how flowers can transform a room.
But, if you'd rather spend your money elsewhere, why not investigate artificial flowers? Or perhaps you're artistic and can create your own floral designs. Many couples will hit the flower markets the day before their wedding and buy bunches of fresh flowers to decorate their reception.
This can save hundreds of dollars in your wedding budget.
Make your own vases
The surge in boho style has meant many items can be DIY'd. For instance, coffee jars, pasta sauce jars are all getting upcycled and turned into vintage vases for decorative table pieces. And while it's a little more work, it's also lots of fun and saves you money.
Winning!
Photo credit Vikki from VS Photographer
And they look amazing in the photos.
Don't Panic About Your Budget
But don't be put off by these facts and figures. How to get married on a budget and make your wedding everything you dreamed of, is totally possible.
Planning early and booking your vendors early means you have more time to arrange a payment schedule. Don't be afraid to DIY as much as possible. It'll save you money.
If you need help finding the perfect vendor for your wedding day, please drop me a line. I know many professional and fabulous people to help make your day everything you've imagined. And if you're looking for affordable wedding photography in Brisbane, I can help you with that!
Congratulations on your engagement and I hope to hear from you soon.
Love, laughter and happily ever afters,
Alison
How to get married on a budget
Alison Cooke Photography is a Brisbane wedding, portrait and newborn photographer and an award-winning member of the AIPP with over 20 years experience in the wedding, family and newborn portrait industry.