The best wedding day tips
The year 2020 must be a popular year for weddings because I'm been getting loads of inquiries for wedding photography. So I thought now would be a great time to share with you my best wedding day tips to help your day run smoothly and stress free.
So here they are, my best wedding day tips…
Make Lists
I LOVE lists. List for EVERYTHING. There's such a weird satisfaction in crossing things off a list. And it makes all those wedding day preparations seem a little less overwhelming. Because there will be plenty of things to do when organising your wedding day. But first things first…who doesn't love funky stationery? So hit Typo and grab some funky stationery and start making that list!
Delegate
That's what your tribe of friends, family and bridesmaids or bridesmen, are for! Don't be afraid to share some of your wedding day tasks. You don't have to plan this gig all by yourselves. And chances, there will be some very keen family and friends that would love to help! And if you're unsure of who to pick for your bridal party, now's your chance to hold "auditions" for the role 🙂
The Big Day
Where you're getting ready is a BIG thing. You want to enjoy the preparations, the pampering, the hanging out with your bridal tribe. So choose somewhere you can relax and not have to worry about tidying-up before you leave. Also, consider what your vendors will love. Hair stylists, make-up artists and photographers LOVE a bright, airy room with beautiful natural light. It makes our work so much easier! If you're able to have your wedding day preparations in a room like this, your vendors will love you forever! Many hotel rooms have perfect natural light and let's face it, wouldn't you rather make a mess in a hotel room? So if you're looking for an excuse to splurge, go ahead! This is one of my best wedding day tips.
Your Wedding, Your Way –  wedding day tips

Not everyone wants a "traditional" wedding so don't feel pressured to have your wedding any way other than your own. Wedding celebrations should reflect your personality, your humour and your style. Your day can be as fun, bizarre, and unique as you want.  If you want to have your male best friend as a brides-man, go ahead! Lots of couples now have mixed bridal parties. Don't be afraid to break with tradition. After all, the day is about you and your partner, no one else.
Relax & Have Fun



Weddings take a lot of planning and when it finally arrives, it goes SO fast. Make sure you and your partner ENJOY yourself. When planning your run-sheet, add extra time on for everything. If you have 30 minutes' spare after hair and make-up, you can relax with your bridal tribe, enjoy a few champagnes and take some time to savor the day. During the wedding day, make sure you sneak away with your new husband or wife and enjoy each. It won't be long before you're needed for photos or cake-cutting so don't forget to enjoy the day you've planned for so long.
Your Photographer Is Your Friend
Choosing the right photographer is so important because we are with you ALL day long. I've helped brides and grooms get dressed, am an expert at pinning buttonholes, delivered forgotten cakes and flowers. I've even driven the occasional forgotten mother-in-laws. It's important to have a connection with your photographer, as well as loving their work. Your photographer should be a friend you can share a laugh with. Because the more at ease you are with your wedding photographer, the better those wedding photos will be.

Unplugged Weddings – The best wedding day tips!

These are two magic words that all photographers and videographers LOVE to hear. What this means is we won't be playing dodge with well-meaning relatives with cameras, iPhones or the dreaded iPad during the wedding ceremony. We won't have to footy-tackle Aunty Marg as she tries to beat us up the aisle or stand in front of us at the 'first kiss'.  Please tell your guests to just ENJOY the wedding ceremony and let the professionals do their work. And not once have I heard of someone framing an iPhone pic and putting it on their wall. Tell them to keep them away until the party starts, then they can crack out the phones when the reception shenanigans are underway.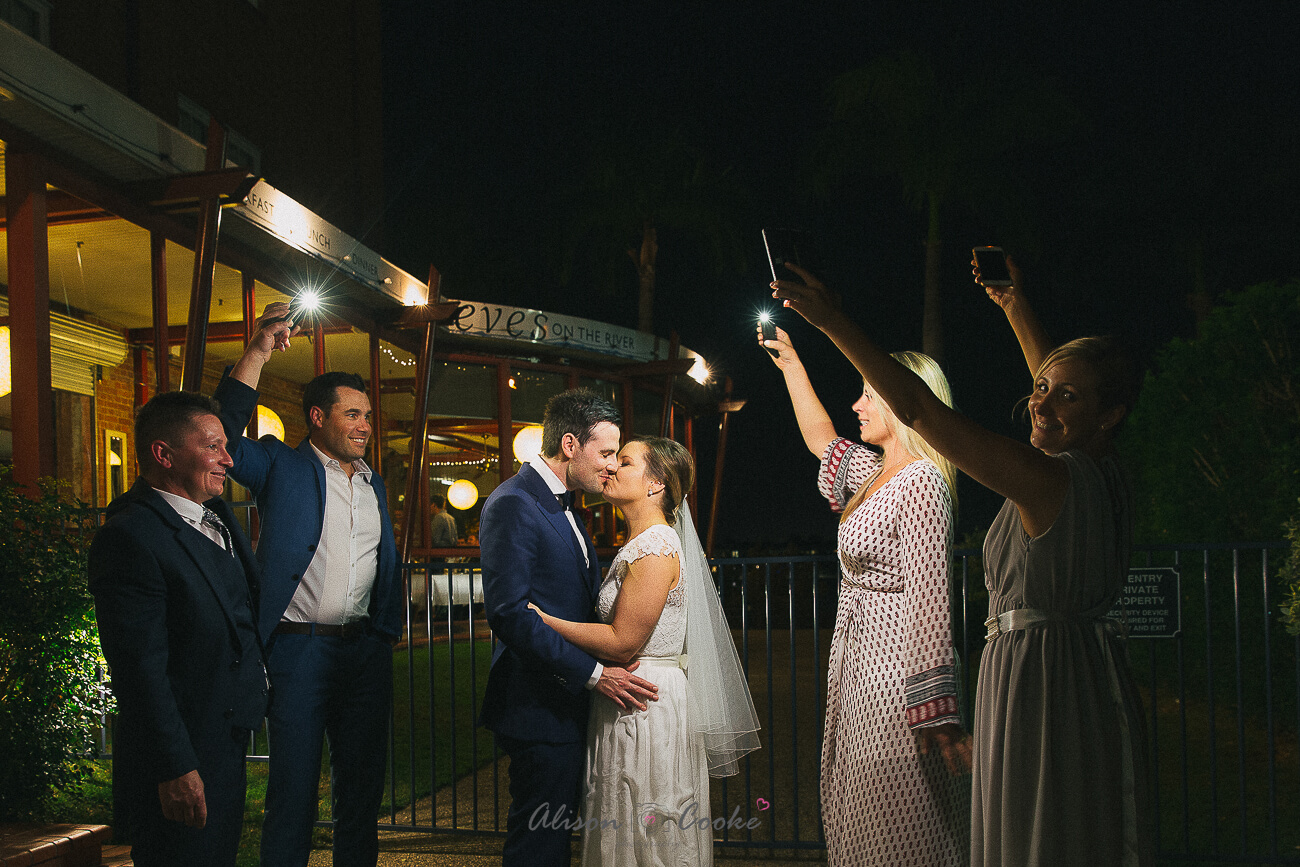 Do Your Homework
As with many industries, there are a gazillion photographers, celebrants, hair-stylists and basically any wedding vendor you can imagine. We all have guidelines we need to work within. Budget and location for example. If you look long enough you will find the cheapest vendor. But ask yourself…what are you actually getting? I'll use photography as an example because it's what I do, but this applies to ALL vendors. We've all heard the horror stories about inexperienced photographers and devastated couples. If you booked a 'cheap' photographer for your wedding day and later had nothing but regret…how much money have you really saved? I'm on many wedding forums and see constantly couples who booked a "photographer" friend because they were cheap. However, they missed important photos of family and loved ones or their work was not of professional standard. There's no do-overs people. It's a one-time only gig so PLEASE make sure your photographer knows their stuff.
So yes, by all means work within a budget. But please remember, as with any vendor, you're not paying for someone to point a camera and give you digital files. You're paying for their expertise, their accumulative experience from hundreds of weddings, the manner in which they round up guests; knowing instinctively from vast experience exactly how the day will run. They'll know how to expertly compose those family shots under the pressure of a time frame and yes, I am one of those who will ALWAYS make people take their sunnies off and phones out of your pants pocket. Photoshop cannot help a rectangular shaped groin people and unless you're a rock-star, sunglasses in photos are not cool.
Remember…owning a pair of hairdressing scissors does not make one a hairdresser. I have a pair. Would you pay me to cut your hair? Look for quality and professionalism over price. Look for reviews and look at entire wedding portfolios. You may pay a little extra now but regrets last a lifetime.
Wet weather? No stress



Please, don't worry about the rain. Yes, we may get a little wet.  We have no control over the weather so  stressing is such a waste of your emotions. What we can do is plan for rain and have a back-up plan, buy some funky umbrellas, and maybe even gumboots. Wet weddings days can produce some amazing photographs. So don't stress, be prepared.
Don't Sweat The Small Stuff -wedding day tips

Last of all, don't sweat the small stuff. All that matters is you marry the one you love. Nothing else. You won't remember if the flowers were the wrong colour or the cake the wrong flavour.  All you will care about is that you married your love. And you did it your own way.
So if you're still looking for a wedding photographer who knows their stuff, drop me a line here. You can view more of my fabulous weddings here.
About Alison
Alison Cooke Photography is a Brisbane wedding, portrait and newborn photographer. Alison is an award-winning member of the AIPP with over 20 years experience in the wedding industry.